A few weeks back, I was given an opportunity to watch the latest movie in The Conjuring universe called The Nun. Besides the super cool experience of watching it in a convent in Mexico City, mind you, it's thundering, hail and rain are crashing against the pavement and windows, it was the perfect setting for this movie and it made me even more low key terrified. Even though the setting was right to watch the movie there's so much I loved and didn't love about it.
A little background…
This movie uncovers the origin story of Valak, The Nun from the 2nd Conjuring movie. It's set in 1952  w/ 2 nuns rushing to close a secret at Cârța Monastery, then they're attacked by an unseen presence. After one becomes a victim of this demonic entity, the other nun takes her own life. Hearing about the occurrence, a priest with a haunted past and a sister that has yet to take her vows have to investigate. They travel to Romania, with the help of a guy named Frenchie, who discovered the body. After having to stay to investigate… terror ensues.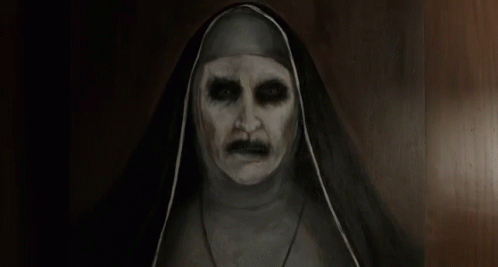 Things I loved about The Nun: If you're a fan of jump scares this is definitely the movie for you. (There's just something fun about being scared and watching these kinds of movies through your fingers) However, if you're looking for a deeper story… it somewhat lacks in that.
Things I didn't love: Although Taissa Farmiga does a great job of being this innocent and terrified Sister Irene, you really don't get too much on why she's really there besides "visions", you really just a chance to really connect with the characters. Same thing with Father Burke, played by Damien Bichir. He's yet to get over a somewhat failed exorcism that haunts him through the movie. The other thing that I found, is it kind of felt somewhat rushed was the end. Even though there was an EPIC battle between all of the main characters, they rush out of it to explain how it all ties together with the series.
Despite those two things, it's still a fun jump scare movie that deserves 7 out of 10 upside crosses.
(Hopefully I don't get a visit from Valak after that rating…)

After previewing the movie, I got a chance to sit and chat with director Corin Hardy.
I had asked him if there was anything terrifying that happened while on set.
This is what he had to say…
I can totally see why director Corin Hardy no longer wants to walk dark hallways again…
Be sure to check out The Nun and let us know what you think. Starring Bonnie Aarons as Valak, Taissa Farmiga as Sister Irene and Damien Bichir as Father Burke.